The World Economic Forum's Future of Jobs 2020 Report is a 163-page document using statistical trends and large-scale research with the aim of capturing where we are now and where we will likely be in 2025. 
You can find the full report here.
---
We have summarized 6 key insights from the document that are relevant for the Malaysian context.
Insight #1
43% of businesses surveyed will reduce their workforce by 2025 due to technology integration.
♦ What this means
There will be a gradual shift to different modes of outsourcing to improve workforce efficiency and an increase in the need for systems thinkers – those who can see the big picture and connect the dots at the same time.
Insight #2
Skills gaps continue to be high, as in-demand jobs change over the next five years.  Skills such as critical thinking, analytical thinking, problem-solving, active learning, resilience, and flexibility are now in-demand.
♦ What this means
A focus on developing cognitive ability and self-awareness is crucial for progressive organisations aiming to leverage human potential.
Insight #3
84% of employers are set to rapidly digitalise work processes, including expansion of remote work.
♦ What this means
With remote work comes the danger of decreasing productivity and well-being.  Employers need to focus on strengthening community, connection, and a sense of belonging among their employees (see our blog post on 3 Ways Leaders Can Connect and Stay Connected During Covid)
Insight #4
A four-fold increase in online learning from individuals seeking opportunities through their own initiative, a five-fold increase in online learning opportunities provided by employers, and a nine-fold increase in learning provided by governments.
♦ What this means
People are becoming accustomed and aware of the limitless opportunities to learn new skills online, be it through paid asynchronous and curated courses or learning JIT (just-in-time) as the need arises.  As people become more and more accustomed, learning needs and expectations for course length and depth will change.  The art of curation of a learning event will be a key skill for trainers and learning and development specialists.
Insight #5
The economic downturn has resulted in more prudent spending on upskilling and higher expectations for impact and ROI from upskilling initiatives.
♦ What this means
A deeper understanding into what makes training and learning work, as well as a more deliberate alignment to organisational needs.  HR Managers and learning and development specialists will become more critical of getting the right solution, and more demanding in getting results that can be measured to impact.
Insight #6
Companies are becoming more aware of the need to measure their impact on society for both marketing and branding purposes and for the benefit of society in general.
♦ What this means
It is no longer sufficient to pay lip service to CSR initiatives. A growing social conscience demands increasing transparency into sustainability, be it environmental or societal.  The Sustainable Development Goals 2030 strongly encourage organisations to align interests to create maximum impact for the good of both the environment and society.
The report continues with 15 key skills that employers will demand by 2025. Complete the form on the right to see what these 15 key skills are and whether you or your company are planning to develop them.
---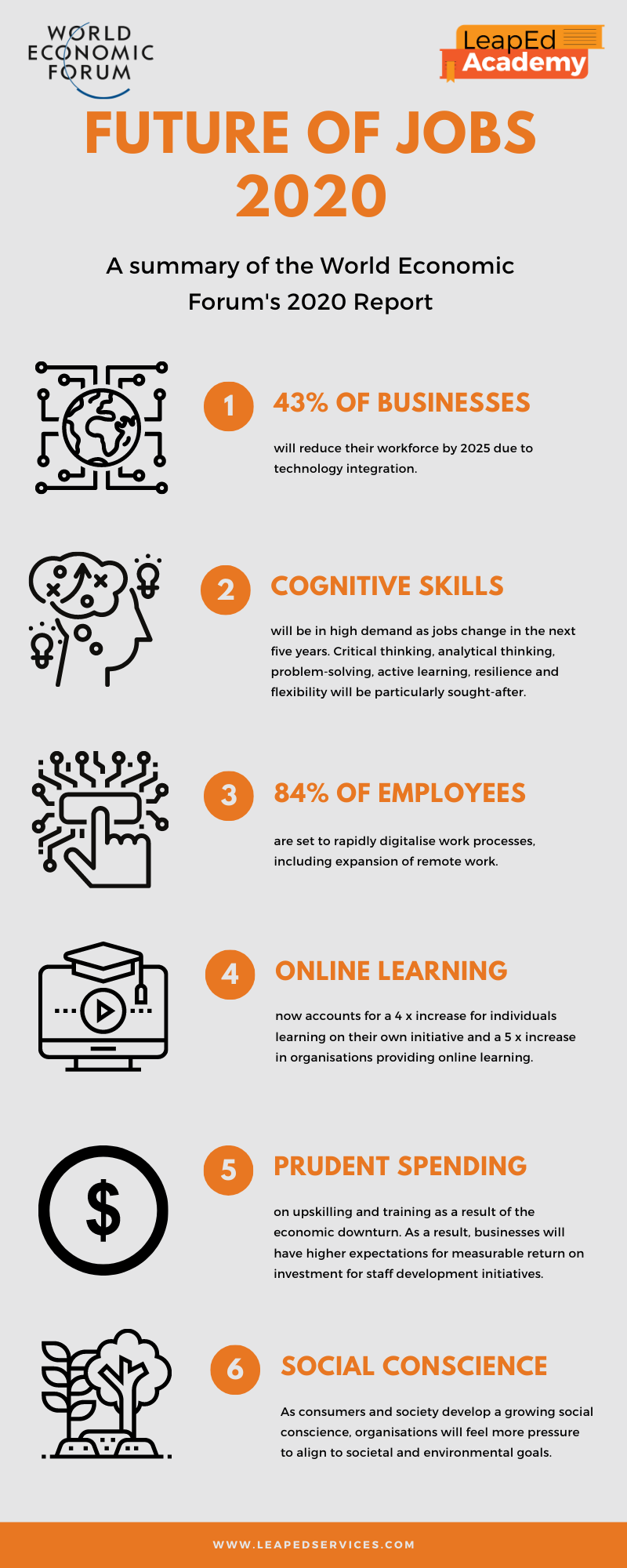 ---