World's Best School Prizes: Malaysian Chapter 2.0 (WBS 2) is a competition proudly sponsored by Yayasan Hasanah. WBS 2 is targeted to all Malaysian Public Schools to celebrate and further support their successes in 5 Prize categories, namely Innovation, Supporting Healthy Lives, Community Collaboration, Environmental Action and Overcoming Adversity, towards competing in T4 WBS Global level.
15 schools were shortlisted from all over Malaysia, based on their project's scalability, replicability, inclusivity, collaboration, equitability, sustainability and integration. They were further supported through Coaching sessions. 3 distinguished Judges - Samuel Isaiah, Programme Director of Pemimpin GSL, Tn Zulkifli Nordin, Deputy Director of MOE's School Management Division and Zadil Hanief Mohamad Zaidi, Chief Strategy Officer of Yayasan Hasanah, were invited to further shortlist the Top 5 Winners of WBS2 in March 2023. These are the amazing stories of our schools:
1. SK Luagan, Sarawak
Sarawak's SK Luagan, a rural school serving a B40 community, will compete in the Innovation category. Students had dropped out of the school as roads were submerged under water during the floods. As an innovative solution, the school set up Filpen Club, a film-based entrepreneurship programme that taught students the art of film development, marketing and financial literacy, creative expression, and leadership skills while helping raise funds to purchase a boat. The school worked with NGOs to produce multiple award-winning short films highlighting social issues, one of which made it to the international Screamfest Horror Film Festival in the US. By selling tickets to viewings of their short films, the school raised enough funds to purchase a boat to ferry students to school. In the future, the school plans to work with film production companies to highlight the most challenging issues in Sarawak such as; nationality, literacy, single parents, floods, and HIV.
SK Luagan's students learnt the art of filmmaking while raising funds to purchase boats to continue education in a flood-prone village.
2. SK Seberang Ramai, Perlis
Perlis' SK Seberang Ramai, a rural school which undergoes Trust Schools Programme serving a B40 community, will compete in the Community Collaboration category. The school faced significant learning losses as students struggled with remote learning during the pandemic. With the help of the National Registration Department, the school worked with villagers to create community-based learning stations within homes in the village. The colorful stations, manned by volunteers, featured cooking and gardening classes, traditional games, and mini fitness centers, amongst others. The vibrant stations transformed the village, and soon drew the attention of tourists who participated in the various activities, increasing local economic activity. Students also began producing and selling homemade goods, such as traditional snacks and crafts which generated revenue once tourism increased, resulting in better livelihoods for their families.
SK Seberang Ramai's colorful learning stations were set-up in homes where students can learn life skills, and participate in tourism based economic activity, transforming the village for better.
3. SK Kanchong Darat, Selangor
Selangor's SK Kanchong Darat, a rural school, will compete in the Healthy Lives category. The school had seen a decrease in student attendance post-pandemic. To address the dire situation, the school put together a "Great Mind, Healthy Citizens" programme that encouraged student attendance while improving physical and emotional health. Instead of a regular recess, the school organized fun jump rope competitions during break time which attracted students back to school. The school's imaginative approach to student well-being drove an increase in attendance with improvements in tracked student health data, ensuring that students achieve their potential in the classrooms. The school received recognitions at district, state, and national levels for fitness, sports, and a positive school environment which brought the entire community together.
SK Kanchong Darat's jump rope competitions during recess drew students back to school while improving student emotional and physical health.
4. SK Demang Taha, Malacca
Malacca's SK Demang Taha, an urban school, serving a B40 community will compete in the Overcoming Adversity category. Through school assessments and attendance tracking as well as participation in extra co-curricular activities, the school faced a decline in student motivation and attainment. The school faced huge challenges during the pandemic school closures, including student isolation and decreasing confidence. The school utilized a whole school approach to address the situation, engaging school leaders, teaching and non-teaching staff, students, parents, and families to create Project-Based Learning programmes for various subjects which improved student attendance, motivation, self-esteem, confidence, and achievement. Some examples were to learn English by interviewing tourists, and practicing maths skills by selling mango pickles which generated income for families.
SK Demang Taha's Project-Based Learning Programmes developed life skills for students while generating income for families.
5. SK Seri Permai, Penang
Penang's SK Seri Permai, serving an urban B40 community, will compete in the Innovation category. Students were facing health and safety challenges as they carried 10 kg bags to school. They invented the Smart and Easy desk (SnET) 2.0 by adding lockable compartments to their school desks, reducing school bag weights from 10 kg to a mere 2.5 kg. Apart from health and safety benefits, students practiced creativity in solving real-world problems through the project. The school plans to share their SnET 2.0 invention with every school in Malaysia.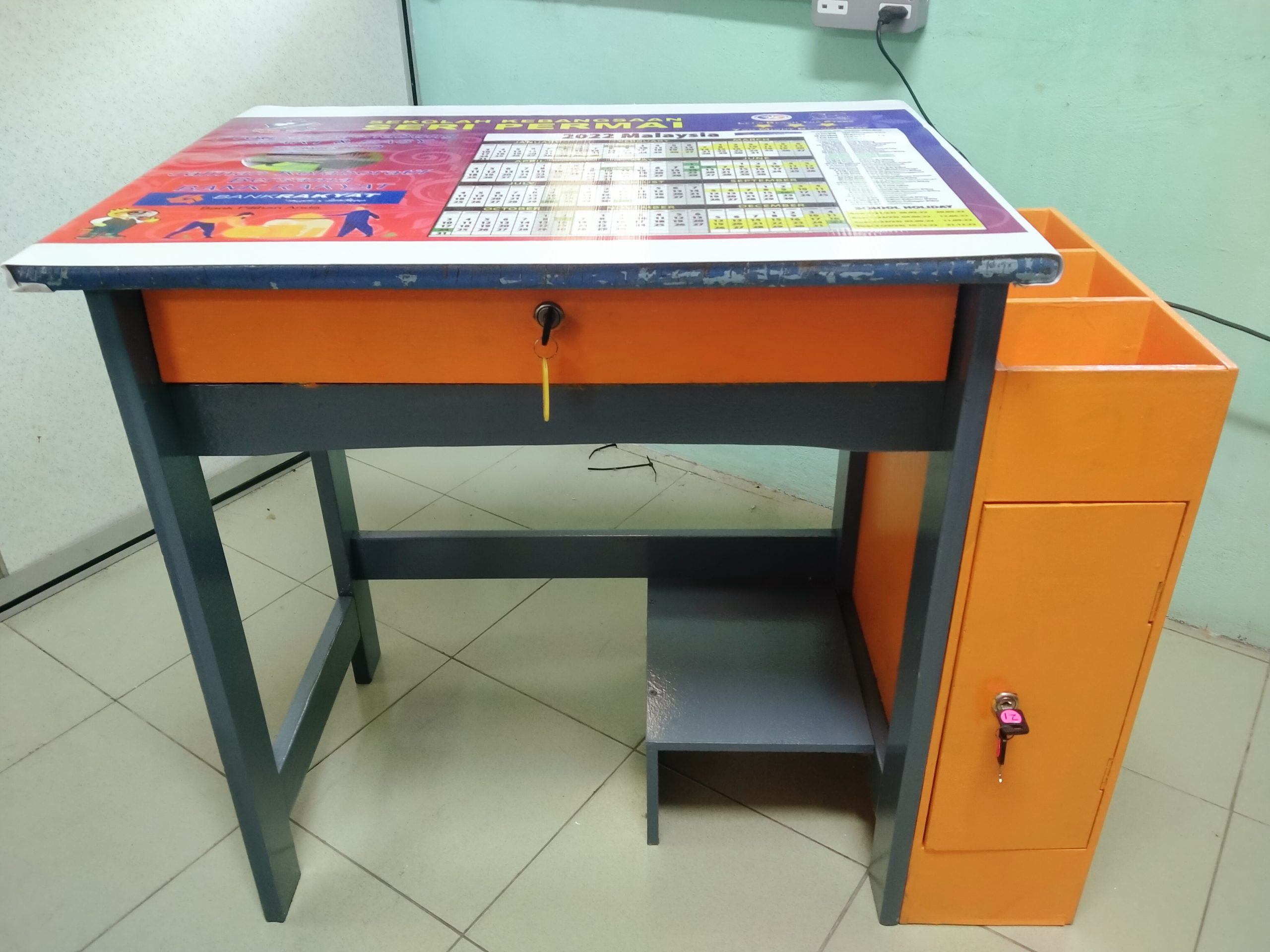 SK Seri Permai's innovative desk modifications saved students from back problems from carrying 10kg bags.
Congratulations to all the winning schools! Let's continue to strive for excellence and bring Malaysia's flag to greater heights on the international stage!