Humankind is a registered social enterprise based in Kuala Lumpur whose mission is to improve the social and emotional well-being of vulnerable communities. In their recent effort, a platform called Buddy Bear was set up with the aim to support children and teens who are experiencing emotional distress.  
This platform offers a helpline for children to talk about their worries and concerns amid the COVID-19 pandemic. 
Humankind was first established in 2016 with core activities that include training and support volunteers from the community to deliver evidence-based interventions. Much of Humankind's projects have been carried out in schools where it is accessible for children from low-income families.
Hayley Trenchard and Rajveen Kaur from LeapEd were privileged to connect with Pam Guneratnam, founder of Humankind, over on online dialogue where she shared the realities of children experiencing high levels of stress especially without the avenue to talk about issues surrounding mental health during the Movement Control Order (MCO).
Sharing a Psychological First Aid (PFA) approach, Pam and her team, Michelle and Peggy, created this phone service for children as a safe space to share emotions. The key element in their work involves listening and then linking to online counsellors. These volunteers are trained in PFA, which is an evidence-based intervention that is used in crisis, pandemics, and disaster environments. In her dialogue, Pam explained that the aim of PFA was to provide psychological support to a child in distress by applying active listening skills, evaluating the immediate needs of the child, and then providing solutions and linking them to the right places for help. Currently, they have counsellors for all language areas (Malay, Chinese and English with Tamil being made available in January 2021).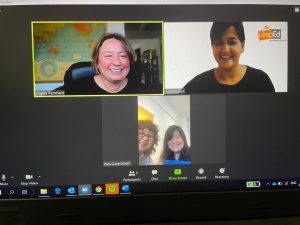 Though it was launched on 2 September 2020, the Buddy Bear helpline has been in operation since April on a smaller scale. Discussing the kinds of problems children faced, Pam shared that these included being lonely and feeling unhappy in their environment due to home and family dynamics. Currently they have 1 - 2 calls a day.
Pam emphasises the power of the helplineis to recognise that something is amiss and seeking help themselves, which in its own is empowering. As a registered counsellor, Pam, highlighted the importance of connecting to children at a level they understand as each child is different. However, the current approach to supporting children was a temporary one.
Much of Humankind's initiatives incorporate art therapies to enable children's expression of emotions as they believe play is the natural language of the child. When working with children in person, this is usually incorporated. However, as the call in's does not permit such actions, more immediate questions are focused upon such as, "What would you like to see happen? What would feel safe for you now? What do you need now?"
Pam hopes that knowing children can call Buddy Bear will enable them to feel like they are not alone with their problems.
To speak to Buddy Bear, children can call 1-800-18-BEAR (1-800-18-2327).
If you wish to donate to this cause, please click here
---